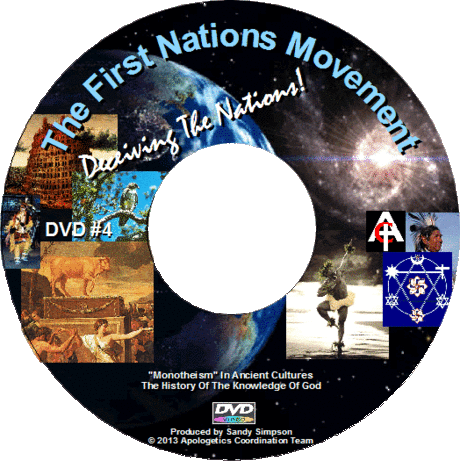 The First Nations Movement DVD 4
(1) "Monotheism" In Ancient Cultures - Sandy Simpson
(2) The History Of The Knowledge Of God - Sandy Simpson
Critical Missiological Issue!
The "Indigenous People's" (IPM) or "First Nations" movement is an unbiblical movement teaching heresies and doctrines of demons. It is being spread worldwide by YWAM, Don Richardson, John Dawson, Richard Twiss, Terry LeBlanc, Daniel Kikawa and many other adherents. The IPM or World Christian Gathering On Indigenous People is full of the false teachings of the Third Wave, New Apostolic Reformation (NAR), Word-Faith, Dominionism, Latter Rain and many other false theological systems. But it does have it's own distinctives that are driven by the works of Daniel Kikawa, Richard Twiss, and Don Richardson in particular. They are teaching Christians to "redeem" their cultures by worshipping their former gods, pretending they are YHWH.
Click on the following to order the DVD: