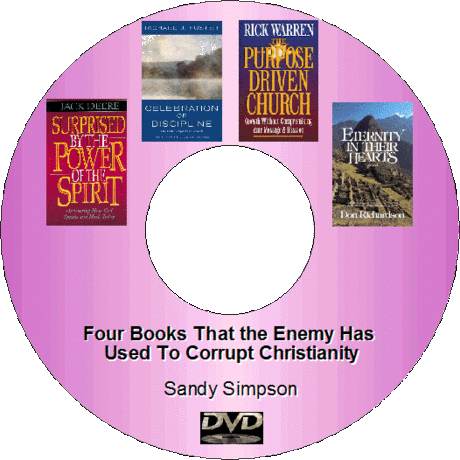 The four books that have changed the church by giving an introduction to the false teachings of the New Apostolic/Latter Rain (NAR), the Emerging Church/Contemplative/Catholic Mysticism (EC), pragmatic Church Growth (CG) methodologies of C. Peter Wagner, Robert Schuller and Peter Drucker, and the teachings of the World Christian Gathering on Indigenous People (WCGIP) are as follows:
Surprised By The Power Of The Spirit
Celebration Of Discipline
Purpose Driven Church
Eternity In Their Hearts
These four books were widely read by Christians from virtually every denominational background before their ramifications and the movements they would spawn were known. They lay error alongside truth so were considered not to be a threat to churches. Therefore these books then became part of the consciousness of many Christians and churches, thereby laying the basis for the introduction of the modern day false teachings of the NAR, EC, CG and WCGIP that have become part of the landscape of Christendom today.
Click on the following to order the DVD: